DIY Umrah Budget Package Planning — Updated Nov 2023
Please read complete blog and note down the points to ease your UMRAH Journey also read the important tips in the end shared by Umrah Traveler.
1. Apply for Saudi Visa, Nusuk App
2. Flights from Europe to Saudi(Vice Versa)
3. The Hotels
4. Transportation
5. Other Experiences
Below is my experience for UMRAH by doing all the formalities individually. This is the 10 days trip including 2 days travelling, 2 days in Madinah and 6 days in Makkah.
1. Apply for Saudi Visa
For Dutch Passport Holder — you can avail the facility Visa on Arrival on Jeddah/Madinah Airport or else apply directly on visitsaudi.com
Validate Visa formalities as per your Nationality — Visit Saudi
For Indian Passport Holder having Tourist and Permanent Resident Permit of any Schengen can apply Visa on Arrival or E-Visa.
I fall under above category and I applied for Saudi Tourist E-Visa beforehand from Saudia MOFA
Create an account on this website and apply Tourist Visa with Multiple Entry option and select "Yes, I want to do Umrah" in the lower section with details including your RP details and validity. Selection of Umrah doesn't impact on visa issuance. This Visa is valid for 365 days and cost around 110 euro +/- per person.
Make sure you have scanned photo with white background(should be 200 x 200 in Width and Height), passport first page and last page scan(in 1 file image not PDF), RP card scan(in 1 file image not PDF) to upload during your visa application.
Example of Tourist Visa, taken from Internet –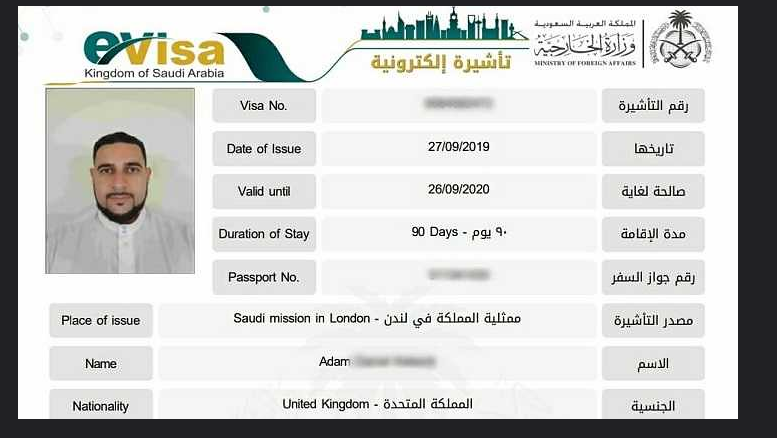 Visa will generate instantly after making the payment along with health insurance which is mandatory while apply for Visa and receive in your email. Take a Print of the Visa and now you have completed the first part.
Nusuk App —
Once you visa has been issued and before leaving to Madinah you need to download the Nusuk App, create the account by entering the Visa number and other details, make sure your email ID is working as Nusuk app will send you the OTP for authentication. Nusuk app requires to take the permit to read 2 rakat namaz in Riyaz ul Jannah(Rawadah), permits get open during Thursday and Friday early morning CET for complete next week and you should take the permit separately for male and female in separate mobile. No need for kids permit as they are allowing kid with an adult. You need to be in the line before your permit start at least 30 min otherwise if you are late then permit will get auto cancelled. No entry without permit allowed in Riyaz ul Jannah.
I have also taken permit for Umrah as per my timing but no one checked the same as I think they are not checking the Umrah permits for anyone but it's wise to take the Umrah Permit as well for male and female separately.
On the other note — you are only allowed on ground floor near Kabaah Sharif (Mataf) when you are in Ehraam, if you are in normal clothes then they will directly send you on the first floor.
P.S. — In Indian Passport usually we don't have Surname field or complete name written in the Given Name field, in this case you need to enter your father name in the Visa form. Please make sure to fill the same very carefully and whatever name you are entering in the Visa Form should match with your passport details.
2. Flights from Europe to Saudi(Vice Versa)
As I was travelling first time from AMS to Saudi Arabia, I preferred to go Madinah first because it's a long journey and if you want to go to Jeddah direct then you should wear the Ihram first before starting your journey.
I flew to Madinah via Brussels Airport as the Qatar Airways connectivity was good there with stopover of 1 hour in Doha. It reaches around 3 AM Saudi Time to Madinah. As Madinah airport is quite small, Immigration formalities took only 15 min.
Regarding Saudi Sim and Currency Exchange — all facilities are available in Madinah Airport and currency conversion charges are quite good so I also did the conversion from there only.
You can also get the STC sim from Saudi Airport only which cost me around 40 SAR for 15 days plan (1 GB Internet and 1 hour of National/International) calling.
I have booked my return flight from Jeddah to AMS via Aegean Air with stopover of 1 hour in Athens Airport. Aegean Air flight departed from Jeddah Airport at 3:30 AM Saudi Time and reach to AMS around 11:30 AM CET. I have also collected ZamZam with me (1 bottle with 1 Visa) and successfully reached to AMS.
P.S. — Aegean Air will not give you any option for having complete meal instead of small snacks so make sure you have taken some good dinner before boarding to the flight. There are multiple options in Jeddah airport including Al-Baik where you can find good options for competitive price.
If you have any Saudi Currency with you and want to exchange with Euros, make sure to change the same once you enter the Jeddah Airport because as of now there are no exchange office in waiting area before boarding the flight. I missed the same thing.
3. The Hotels
P.S — Hotel locations are entirely depends on your budget.
I did hotel bookings via booking.com in Madinah and Makkah with no prepayment option(Payment at Property).Please make sure after booking the hotel you should send them message and ask them whether my booking is confirmed or they need any prepayment, they will allowed me to early check or late checkout as per your requirement, any extra charges for early check in or late checkout and most important, will they accept credit card payment at property.
Payment at Property is very important because I have booked 2 hotels in Madinah first and both messaged me and confirm that you need to do bank transfer first then only your booking is confirmed or else, we will cancel it. I cancelled the both bookings because I don't want to perform any bank transfer.
There are lot of other hotel options available in booking.com but I prefer to choose hotel where I can go directly without the use of shuttle/taxi because if you are planning to go for Namaz for 5 times then it's mandatory you choose the hotel which you can cover easily with steps.
Madinah — Saudi Hotel Policy — 4 PM Check In and 2 PM Check out
As I reached to Madinah 3:00 AM Saudi Time and after taking sim and currency conversion, it took me around 1.5 hour then I booked the taxi and reach to Hotel at 5:00 AM Saudi Time. I requested them to allow me early check in and they allowed the same without any extra charge.
Hotel Name — Al Rawda Al Aqeeq
P.S — I have not taken any breakfast option as I found it's not worthy with the amount 30 SAR and if you want to do breakfast, you can pay at property as well.
Madinah Hotel Review –
Hotel Location is very good, its nearby gate number 318 which is next to ladies gate and it's very convenient. There is only 3 min walk to hotel and Masjid Al Nawabi, you can see the hotel from gate and it's very easy for my wife and kids to reach hotel without me. Hotels beds are fine, didn't find any cleaning option as well but bathroom is not good and I believe they are taking advantage of their location rather than improving themselves but this is OK for me as I stayed Madinah for 2 days only and it's manageable. There are no food option nearby and every time, I have to go Bilal Masjid to bought food for my family which is 10–12 min walk from Masjid Al Haram.
There is also a shopping complex in Bilal Masjid, where we purchase Ihram, tasvi, Janamaz and lot of other stuff as per your requirement.
Makkah — Saudi Hotel Policy — 4 PM Check In and 2 PM Check out
Hotel Name — Nada Al Majd
Makkah Hotel Review –
Hotel Location is fine and it's located in Ibrahim Khalil Street as it's around 6–7 min walk from Haram and if you are with female traveler then walk will be around 10–12 minutes. There is no food option available in hotel however there are lot of Pakistani and Bangladeshi restaurant available nearby which open 24/7. Rooms are good with central AC and bathroom is much better then Madinah Hotel, overall good experience. Staff is really cooperative and they did the check in formalities in 15 min.
As check out time is max 3 PM and my flight is on 3:30 AM (Next day), I requested them to leave hotel around 9 PM in night which I have to pay 100SAR extra.
Please Note — Ibrahim Khalil and Ajyad Street are nearby with Haram and both streets are having lot of hotel. Most of the hotels are not available in booking.com as they prefer group booking, I talked 2–3 hotel and they give me visiting card and said, you can call and book us directly. If you are planning to stay near by Haram then Ibrahim Khalil Street is much better as you can find every shop over here including good hotels, restaurants and shops for your shopping.
4. Transportation
Uber and Careem taxi services are available there and I tried booking them but there waiting time is too long hence cancelled and never use it.
Madinah Airport to Al Rawda Al Aqeeq Hotel — booked the taxi from authorized airport taxi service — Cost 90SAR.
This is quite costly as I don't want to take risk with my family during early morning in new location, usually if I book taxi directly, it will not cost me more than 50 SAR.
Madinah Local Travelling — there are lot of private taxi running in Madinah and they will not cost more than 15–20 SAR from one place to other. I took taxi from Bilal Masjid to Hotel Al Rawda Al Aqeeq and it cost me around 15 SAR in night and 10 SAR in day.
Madinah Ziyarat — If you have limited time in Madinah, better to book taxi, I did the same with 80SAR which covers 5–6 places including Masjid Quba, Masjid Qiblatain and Mount Uhud etc..
Madinah to Makkah Hotel — There are different ways to travel between Madinah to Makkah, like — super fast Train (Harmain), SAPTCO VIP Bus and Taxi.
I prefer to travel via SAPTCO VIP BUS and book the ticket from https://saptco.com.sa/ office directly which is located to Saja AL Madinah Hotel. This cost me around 360SAR for 2 Adults and 2 Kids (Both train and bus works on dynamic pricing hence early you book, you can save more money). I booked the ticket 1 day before so it cost me much extra. You can board the bus from SAPTCO office and VIP bus will take around 5:30–6:00 hours to reach Makkah including 15–20 minutes stop in MIQAT (if you are going to Makkah with intention of UMRAH, mandatory to wear Ihram, read 2 rakat nafil and do the umrah niyat). They will give you Arabian tea and also give 1 food packet. There will be no further stop in the bus and it will directly stop to Makkah SAPTCO bus stop.
Makkah Local Travelling — there are less private taxi in Makkah and I would suggest to you the CAB's which are having TAXI sign. Makkah Taxis are quite expensive then Madinah. I booked the taxi from SAPTCO Bus Stop to NADA Al Majd Hotel for 40 SAR and they dropped me near Kubri(Bridge) because traffic police is not allowing to enter on Ibrahim Khalil Street and I have to call hotel to understand the location and it took me 10 min to reach hotel by lifting my stuff, kids and also managing the Ihram as well.
Makkah Ziyarat — There are lot of buses available nearby hotel which take around 12–15 SAR per person and start running from 7AM Saudi Time and come back during Dhuhar time. I have a good experience with them and they cover almost good places, including Masjid Nimrah, Jable Noor, Jable Rahamah, Arafat Maidan, Meena Tents etc.. it was a good experience.
Now you time has been completed and you completed Umrah, Tawaf and Ziyarat, it's the time to come back to your home location but your heart is still there because this is the lifetime experience you have ever get.
Makkah to Jeddah Airport — there are different options available, Harmain Train or Taxi — I prefer taxi as it will pick me up with my all stuff from hotel directly and left me at Jeddah Airport. Cost me 150 SAR. it took around 1 hour to reach from Makkah to Jeddah Airport. I also checked the train which is almost costing me the same.
Now you are ready to board the flight for your home destination…
5. Other Experiences –
General Medicines — Keep generic medicine with you like fever, cold etc and if you are travelling with kids then you must keep some others as well as per the requirement.
Immigration Check — In Europe (Before Boarding) — validate the Saudi Evisa, match the name on Visa and Passport and Validate RP.
In Saudi — Check Evisa and Passport and Stamp it.
CASH/Card — Cash is King, most of the shops only accepts cash except Hotels and some big shops, remember to carry cash/exchange it in Saudi airport, I used Revolut card to make the hotel payments and also withdraw cash in SAR currency, perfectly works without any issue. I already converted the EURO to SAR online in Revolut app and make payments via Revolut Card loaded on my IPhone.
Umrah Preparations — I follow below video, crisp and clear and also download the Umrah book from internet and keep the prints to revise.
Download the Umrah Process PDF from here.
Saudi eSIM — 40SAR (STC — 1GB Internet+ 1 hour calling National/International) sufficient for normal unless you start watching videos/YouTube/surfing. Free Wi-Fi is not available everywhere except Hotel, SAPTCO bus and some other places include Makkah Towers super market.
WhatsApp Calling — WhatsApp calling is blocked in KSA however and I can see people are using different VPN's I have installed 1.1.1.1 VPN in my mobile to test and it works good working without much disconnection issue (Video/Voice)both.
Food — Some things which I remember – Indian Tea-3SAR, Pakistani Food — Chicken Biryani 15 SAR, Haleem 15 SAR, Mutton Kadhai 25 SAR, Chicken Korma 15 SAR (All are having 3 breads by default except Biryani and Haleem), lot of options are available. Al-Baik (Near Masjid Al Haram, Makkah) — 23 SAR (only 1 option, Chicken Nuggets, cold drink, burger)
Super Market — if you are looking for any supermarket then carrefour is a good option in Clock Towers.
*********************Important Points to Remember**************************
1. People with Indian passport with EU Residence permit is allowed for e-Visa
2. At Mecca, all Top hotels provide frequent shuttle service but be aware
2.1. Peak times during prayers its crowded
2.2 Due to expansion the Shuttle leaves us at about 10 mins walk from Haram, be prepared to walk a bit.
2.3 Example of Al-Kiswah towers – Budget friendly hotel, the service was good except the above two challenges
3. Shopping at Madinah is cheaper than at Mecca. The street from Madinah to Quba masjid has good shops. You need to bargain a lot.
4. You get mineral water at hotel and restaurants, you can also buy t 5L water can for 5 Riyals and fill it up with zamzam water both at Mecca (at entrance) and Madinah (near gate 309). So as long as you stay there you can drink zamzam.
5. Revolt card is accepted most at 80%, except Taxi and few shops where they asked for cash. You can add your Revolt card to Android/Iphone wallet and good to go.
6. You get Safety pins everywhere that can be used along with ihram, but because of crowd I always had bad experiences. Best is to buy Child safety pin, that is quite safe. I learnt it hard way.
7. As of Oct 2023, for Umrah pre-booking at Nusuk app is not required. For Rawdah, yes pre booking is still necessary.
7.1 At Mecca – for Umrah, you need to enter through King Fahad gate 79.
7.2 For Rawdah, be at WC next to Al Baqi Cemetery about 30 mins before appointment time, they don't adhere well to appointment time.
8. Plan for Jiyarat after Fajr at both Mecca and Madinah.
8.1 Mecca – It took 3.5 hours and private taxi charged me 130 riyals. Prefer Pakistani/ Indian/ Bangladeshi driver who can explain in your language. Covered Ghare Hira, Ghare Thaur, Masjid al Jinn, Mina, Muzdalifa, Arafat, Three saitans
8.2 Madina – Shared taxi charged 15 riyals per person
9. Remember At Madina – there is hadees, one who does wudu at Madinah munawara and pray 2 rakat nafil at Quba Masjid gets sawab of umrah. Its good this to do every day as long as you are at Madinah. Madinah to Quba Masjid is about 3km, we can walk one direction and return can be through Golf car, they charge 10 riyal per adult or shared taxi for same price.
10. At Mecca, Hatim –> semi-circular wall opposite, but not connected to, the north-west wall of the Kaaba. The space between the Hatīm and the Kaaba was originally part of the Kaaba, and is thus not entered during the tawaf. After Isha prayer around 9pm people start queuing up at Hatim, after waiting for an hour or two we get privileges' to pray 2 rakat at the space between Hatim and Kaaba which is like praying inside Kaaba. Its an experience can't be explained. (Time subjected to change as per authorities)
11. Easy travelling from AMS to Jeddah via Aegean Air and wear his Ehraam on Athens Airport need to Gate. There are multiple other people as well with Ehraam and you can also read 2 rakat Umrah Nafil there.
12. Travelling from Medina to Jeddah Airport via HHR train and it took less then 3 hours to complete overall journey including on boarding and off boarding however there are some points need to consider –
A. Train management is very restrict for luggage dimensions and if you are carrying more then defined dimensions then there will be a delay receiving luggage post off boarding because they put the luggage on other compartment.
P.S. Note – If you are travelling to Jeddah Airport directly then showing your ticket will save you on this hassle and they will approve to keep your luggage with you irrespective of dimensions.
B. HHR Tickets are with dynamic pricing so better to take as soon as you planned.
13. Riyaz UL Jannah(Rawdah) inside video during Asar Namaz – click here
if you think if anything is missing, you can comment here or drop me email adilfahim(at)duck.com, I will get in touch with you.
I have written the entire details and If I remember anything, I will update the same. if you find this useful, remember me in Duaas.
P.S — I have not shared flight, hotel and any other extra cost as it depends on your requirements and time. No affiliated link in this post.